..................
.......................................................--- IDA Sailor Rudder ---
..............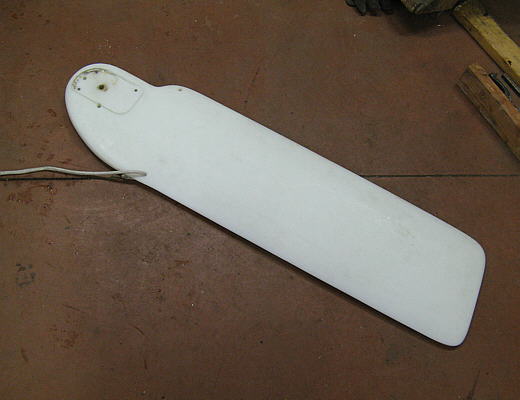 ............ rudder made by IDA Sailor and also a swing keel/centerboard by Ida Sailor.


================= IDA Sailor Rudder Failure =================

Any rudder can fail and there has been some failure of these rudders and much discussion about them on the Internet. I decided to call Ida Sailor and talk to them and the following is what I learned and then posted on one of the MacGregor sites.

"I just got off the phone with an Ida Sailor service guy who really took the time to explain their rudder history and so forth. While it is still fresh in my mind I thought I would write it down and I think the following is accurate, but if in doubt call them.

First the material thickness they need for the rudder is 1 3/4 inches. He knew I had a Mac S, so this might be different for a different Mac or Venture. He said they can't always find material in that thickness so they have had different solutions.

1. Their first solution was they got two pieces of material and made the "entire" rudder from the two pieces with one being one side and the other the other side. These were then welded around the entire circumference. A great number of these failed and were replaced under warranty.

2. Then they made the entire rudder from one piece, but since it wasn't thick enough where it attaches they made a "shim cheek" plate to go in the area where they pivot. Initially these cheek plates were welded on all four sides. The bottom weld then caused a stress prone area in the area that was also the highest stress point on the rudder. Some of these failed and were replaced free. If you are having a hard time visualizing the stress point hold a long envelope between your two palms with the envelope sticking out past the bottom of your hand. Now have someone else grab the bottom of the envelope with their two hands and twist. The bending, stress, is going to happen right below your hands. Your hands are the rudder attach assembly trying to turn the rudder one way while the other persons hands are the water pressure, drag, trying to resist the turning.

3. The next version welded the cheek plate on only the top and the two sides. Well these worked better, but sooner or later some of the welds on the cheek plates wanted to crack and the cheek plate would separate. Owners then started just screwing them back on. Ida Sailor then followed suit and screwed theirs on as this plate is just taking up the space needed to get the rudder to a 1 3/4 inch thickness at the pivot point. This is the latest version the way I understand it and is what I have.

4. Some rudders required a check plate to be attached to both sides to get the 1 3/4 inch thickness and others only on one side (ours is that way).

5. Finally some rudders don't have the added on cheek plates as they were able to obtain material that was 1 3/4 inch in thickness or greater to begin with.

There you have it. Now one thing he told me that made me feel a lot better is that they feel these rudders have not just failed with no warning if they had been periodically checked. He said to periodically check you rudder in the area where they have failed....




........................(photo by and courtesy of Chris & Lenore - M26S - Teliki )


..........for any hairline cracks or stress marks. If you see them then you probably should be getting a new rudder or make sure you have a spare with you. He also said that they felt that most rudders failed at some point "after" being stressed such as running into or damaged such as the tide going out and the boat sitting on the rudder or something that then start a process of stress cracks growing to the point of failure. Check your rudders.

I mentioned drilling a hole into the other end as a solution if the rudder did fail. He felt that it was easier to get a 2 X 6 or larger piece of wood and just rough shaping it a little and drilling it so that it could be mounted in an emergency to get home. I'll think about doing this as an option or will drill the bottom of my present rudders. He also said that you can fix up an old oar or paddle as an emergency rudder.

I felt that he was very honest with me and faced up to past problems and I believe him when he said that the present failure rate is very small. I can't remember for sure, but I think only a couple percent and he felt that their rudder was much stronger than the stock one.

I feel good about things and will make a simple "get home" rudder by drilling the other end of the Ida Sailor rudder for the pivot pin and the down/up haul lines like Chris did so I could put the lower half in upside down if it breaks. I also will check my rudder for stress marks periodically and quit worrying about it. One of the reasons we bought the Mac we did was because it came with an Ida Sailor rudder and centerboard and the rudder is way superior to the stock rudder in most people's opinion.

c ya,

Sum"