.......Under Construction Page Four..............................................................Under Construction Page Six
Truck Is Finished (sort of)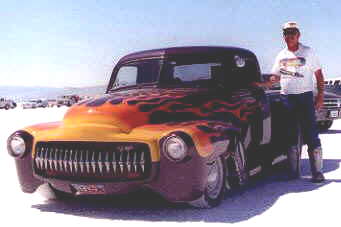 This has to be one of my favorite pictures of my truck because Al Teague (current world speed record holder for piston driven cars -- 409 mph) is in it. He was next up on the starting line (at Bonneville of course) when the car in front of him spun out down course and there was a delay. He got out of his streamliner to take a break and since my truck was a few yards away he wonder over to take a look at it. While he was there I asked for his picture and being the nice guy he is I got it -- thanks Al. I told him I would trade it straight across for his streamliner and and he said he would think about it :-).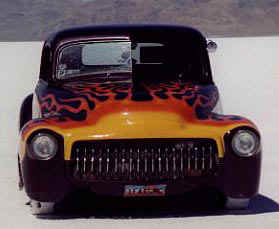 The following are a few more pictures taken at Bonneville in 1999. I forgot to take one from the back this year, so I included the two at the bottom with my unfinished teardrop trailer to cover that view. I hope you have enjoyed watching the progress of my truck through these pictures. It has been a fun project for me and I still have some upgrades to it for the future. Mostly in the chassis and the engine. My goal is to build a very streetable 375/400 hp engine that will still get the mileage I am getting now. I figure new heads, a roller cam and rockers and fuel injection. I also want to put some Cal-track bars on the rear end to control rear spring wrap and give me better handling also. If you have any questions or thoughts just e- mail me. C ya, Sum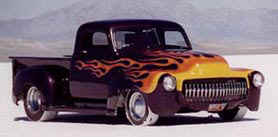 ....

If the teardrop trailer gets your interest up a little visit my pages on it's construction. I hope to have it painted to match the truck by next summer.


.......