.......Under Construction Index..............................................Under Construction Page Two
---
1FATGMC UNDER CONSTRUCTION
.................................Click Here for Fact Sheet About My '48 GMC Pickup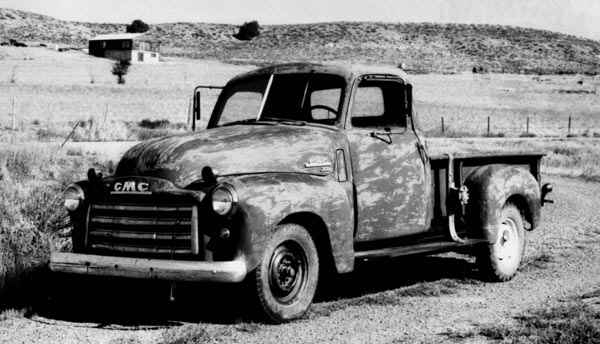 1948 GMC -- Bought in 1976 in Sheridan Wyoming where I was living at the time for $150.00. I used the truck to construct my house there. It was used to haul all of the sand and gravel for concrete work and all other building supplies. It had the 6 cylinder engine with a 4-speed transmission (granny low). After the house was finished the truck was used to haul trash to the dump until 1989 when it was decided to turn it into a street rod.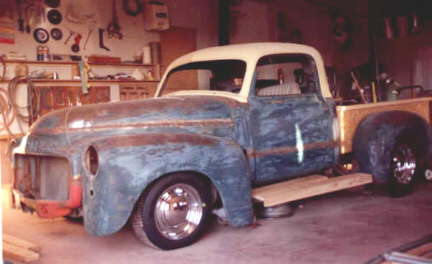 This picture was taken at my house in Moab, Ut. I had started the truck in Sheridan, Wyoming the year before. In Wyoming I chopped the truck and installed the '73 Camero Sub-frame to the original frame from the fire wall back (in later pictures you will see where I replaced the frame under the cab with 2X4 square tubing 6 inches lower that the original frame). In this picture you can see the section cuts through the door, hood and body. I still haven't sectioned the front fender at this point. I have tacked a second top GMC grill shell onto the bottom of the original top one. I have the running boards and bed sides mocked in with wood. The headlights aren't frenched yet and bottoms of the front fenders still have to be trimmed and reworked. The side vent in front of the door will also be filled.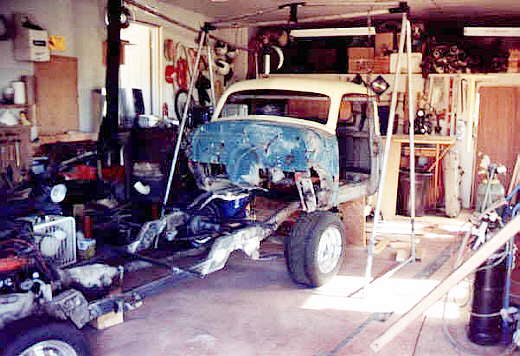 In the picture to the right I have the body off the frame and you can see where I used the 2X4 tubing under the cab area. This allowed me to lower the cab floor 6 inches for more leg room. In the picture the cab still has the original floor, yet you can see where the bottom half of the firewall is cut out. After these pictures I made a new cut-out in the fire wall for the engine to set into. This and the firewall and new floor where made out of 16 gauge cold rolled steel and 1X1 thin wall square tubing.