Page Ten

..........................................is

Page Twelve
---

............

Teardrop Trailer Page 11
......................................................-- How I made my Fenders --
---
...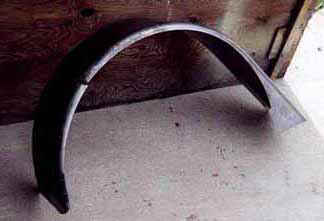 ...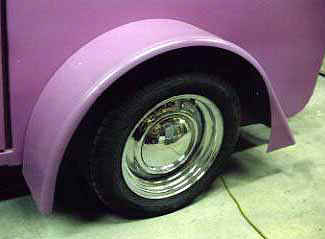 I took a tandem axle trailer fender that had a valance between the 2 wheels and cut it at the valance (right side of left picture above). In the left picture above the right part is 1/2 of the tandem axle trailer (you can see a weld to the left side and the metal is two different colors). I then used parts off of a single wheel fender on the left side to make the fender long enough to wrap around the wheel (the two parts were welded together and you can see the welded area where they were joined). I ran the trailer like this for a while, but didn't like the looks of all the space around the tires (see the right picture above). With 15 or 16 inch tires this wouldn't have been too big a problem and one could stop here, but I'm running 14 inch tires the same size as on the front of my pickup to help with the spare tire situation and to get the trailer as low as possible. By using one tandem axle fender and one single axle fender and some 16 gauge steel I was able to make two fenders for about $80.00. Of course we aren't figuring labor into this, but I like to make things, just don't ask me to make you a set for $80.00. I won't charge you for my ideas, so that's a deal ;-).
...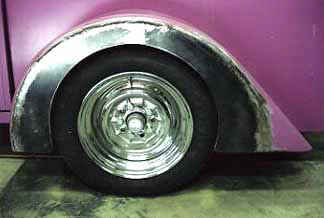 ...
To close up the area around the tire I cut a piece of 16 gauge cold rolled steel to fill in this area. It was welded in and the welds ground flush. I also added braces at the bottom of the fender just in front and to the rear of the wheel to stiffen up the fender in these areas.
...
...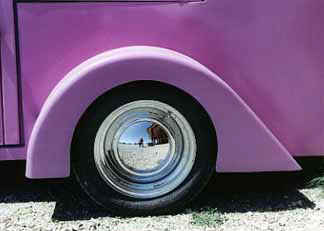 Next I put on a skim coat of mar-glass on the seams and then bondo over the whole area and sanded this flat. Next came the primer. Looks better than the picture above don't you think. In the left picture you can see that I'm playing around with some flame ideas as it has to have them.
..........................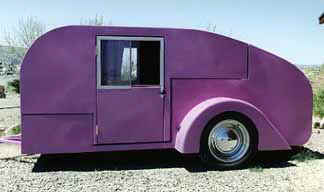 ...
Now I just have to get the trailer painted to match the truck in a dark purple and with some flames of course. I'm about done with the body work at this point. I still need to make some window trim pieces to replace the temporary aluminum going around the windows.

---

...............................

Page Twelve