Return to Sumner's Home Page ......................... Rodders Round Table Index .
- RODDERS ROUND TABLE CARS PAGE 5 -
---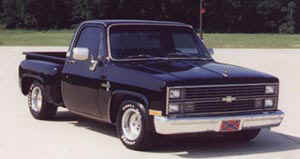 Greg McCourt - low87 - This was my second vehicle, but my first hot rod. I bought it as is, everything already done. Up to this point I had sworn off anything lowered and I was going to restore it to stock height. I began to like the lowered look and the rest is history. It had a warm 350, mild cam, overcarbed with a 750 Holley double pumper, 350 TH tranny, and stout 4:11 gears. It was lowered about 4/6 the WRONG way, and rode like a potato wagon. But it was FAST!!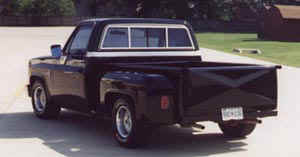 The kid who thought he had the badass Camero in town was a bit more humble after I had smoked him. Dad didn't like the fact that this was a custom built by someone other than us, so I only had the truck for about 2 months. It had a flawless new paint job, but the mechanicals needed some serious work. I sold it and found my current truck in stock condition, and me and Dad have been doing some customizing ourselves ever since.
---