Return to Sumner's Home Page ............................ Rodders Round Table Index
- RODDERS ROUND TABLE CARS PAGE 6 -
---
Pope Down Under -- Neil -- My current car, a '32 Pickup is Posted under Archive 11 at Low87's site -- From about age 12, I always wanted a Hot car. I had a few other stock ones before this but this was my first Hotted up car. It was a 53 Holden, I bought at age 18, (in 1972) 2 weeks before the HSC, much to my parents concern. It as semi-stock but had a decent body and had been painted and had 12 volt electric's and 13" wheels. Even with the fumey gray "sideplater" it was much quicker than the old VW.

Over the next year I progressed through to a hot 3 & 3/16 twin carbs etc., but it still was a dog. For the first year my father wouldn't let me bring it into the yard or build a shed as he didn't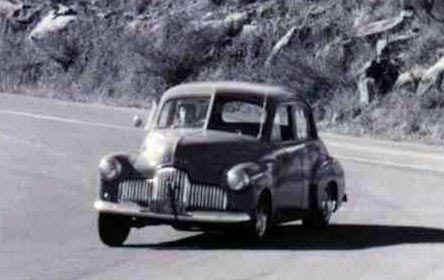 agree with modifying cars. He came around eventually and was a great help and support. Before left home I had 5 sheds! The mechanic next door was a great mentor, he would lend me the gear and show me what to do, but he would not do it for me. I learned so much from Bill Glover, working in his muddy driveway, during those early years.

It quickly became apparent, after some notable experiences I'd rather not be reminded of, that if I wanted to keep up with, (beat) the GT Falcons, Monaros and XU1 Torana's I would need some serious power. At that time rego was tight so I stuck with a six (still illegal). We built a hot red motor with 40/80, 12 Port head, triple 1 &3/4" SU's etc. Each year I had to pull the engine to get it rego'd. It dynoed at around 140HP at the back wheels, which did the trick nicely, in a car that only weighed 21CWT. It was all done on a shoe string budget with hardly any tools. It was slightly quicker than the GT's at the time. I did a bit of illegal drag racing, but my real interest was in lap dashes and hill climbs. It destroyed several gearboxes before I upgraded. Eventually it had a different diff, HR Front end, EH steering etc. etc. the only original suspension part was the spring hangers on the back floor, until I tore those out one day! Under full power it used to torque up so bad it would chip paint off around doors and you could see the gap under the back of the hood.

This photo was taken at Amaroo Park around 1975. It was still a handful going over the top of the hill a 90MPH and into the loop, I remember sliding across the bench seat until the lap sash belt held me. It was primitive, but it was quick, and fun to drive. I sold it 1976 to build by first Hotrod a 1934 Chev Coupe. I was still only 22 but I had gained a wealth of experience from that old Holden.