....................................Sumner's Home Page.......

..........Temp Pictures Page 2...................Temp Pictures Page 4

---

...............

Temporary Pictures Page 3

These pictures will come and go as I post them for myself and others, so if you like something you had better print it out as it might not be here later.

---

......Don's trip to Moab, Ut., April 2000

.............(RRT's own "Old Farts and Old Fords")

---

......Click here to go to Don's Vegas Trip (Nov. 2000)

---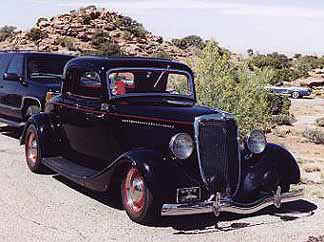 ..
I talked Don into coming down to the Moab car show a day early so he could make the Friday rod run to Needles Overlook by Canyonlands Nation Park, so he showed up in Moab on Thursday and we meet for the first time in person. As you can see he has a beautiful blown '34 and he is a great guy. The above two pictures where taken at Needles Overlook. It was about a 120 mile round trip from Moab and almost 50 cars made the trip.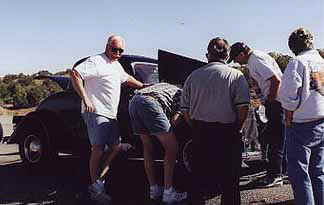 ..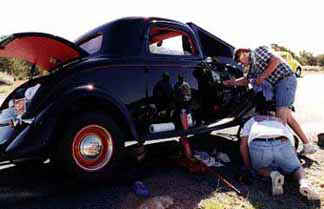 After an uneventful trip to Needles Overlook, cruising main Friday and Saturday nights, and attending the car show on Saturday with over 600 cars, Don decided to take the rod run to Dead Horse Point State Park on Sunday morning with over 150 cars. I was at the end of the line with Don and the '34 not to far ahead. About 30 miles out he pulled over with smoke coming out from under the car. I grabbed a fire extinguisher and went to the car. He had blown a transmission line (rubber) and it was going all over the exhaust (no fire). In the left picture everyone is trying to figure out where the leak is and Don (looking at the camera) is trying to figure out what he is going to do to the camera man. The guy in the plaid shirt in both pictures is Don's transmission man. I guess he had him along just in case ;-).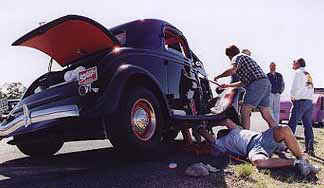 ..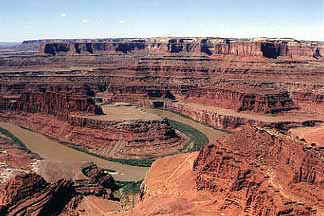 After breaking out the tools Don was able to get things fixed and back on the road again. Now here is a little tip: Don's friend always carries a spare push rod and rocker arm. He was able to break the push rod on both ends and insert it into the transmission line and use some hose clamps to finish the job.

The last picture is Dead Horse Point State Park which is next to Canyonlands National Park. The view is the Colorado river canyon. Right below where this picture was taken is where they shot the car off the canyon rim with Thelma and Louise in the movie of the same name. Don didn't make it to here as he decided not to push his luck and went the 240 miles back to Salt Lake City with no further problems. Thanks for putting up with this Don and hope you return to Moab next year and I admire you for putting all the miles on the blown '34. It's a great car. I'll see you at B'ville and I hope I don't break down. Sum
---
..........Temp Pictures Page 2..................Temp Pictures Page 4