....................................................Back to Sumner's Home Page
---
The following are pictures and achievements of my great uncle Len Zengle. He was married to my grandmother's sister (on my father's side of the family). He raced in the early 1900's and went on to finally have a Chrysler/Plymouth dealership outside of Philadelphia, Penn in Bryn Mawr. We use to get a new Plymouth every 4 or 5 years or so when I was young and would stay at his house in West Chester, Penn for a day or so when we would go to New Jersey to visit my grandmother. He was quite a character and I always enjoyed staying at his house which was a large southern style house on 93 acres. It appears he had bought the farm in 1924 from a Lewis G. Harper who had owned it since the 1876.
In the first three photos below he was racing a Chadwick and the pictures might have been taken at Fairmount Park Philadelphia Pa. He won a number of races and hill climbs of the time and raced in the first two Indy races before they were 500 miles long and the second Indy 500. As I get more information I will post it below the pictures.
Len Zengle's date of birth is given as March 15, 1887, in Tim Considine's "American Grand Prix Racing: A Century of Drivers & Cars" (Motorbooks International, 1997). According to the same book he died Sept. 25, 1963 (I also have a date of Sept. 23, 1963 from another source). I do not know his place of birth or death.
If anyone comes across some information about him I would like it. I would like to thank Jeff Fennema, Dick Mittman, David Hatchett and Bob Holcolmbe for the information they have passed on to me.
.............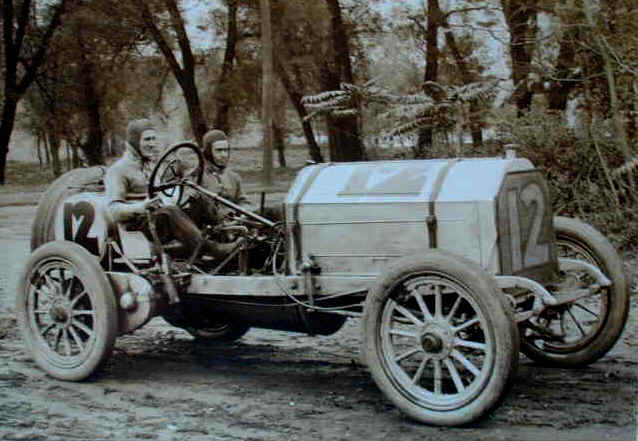 ................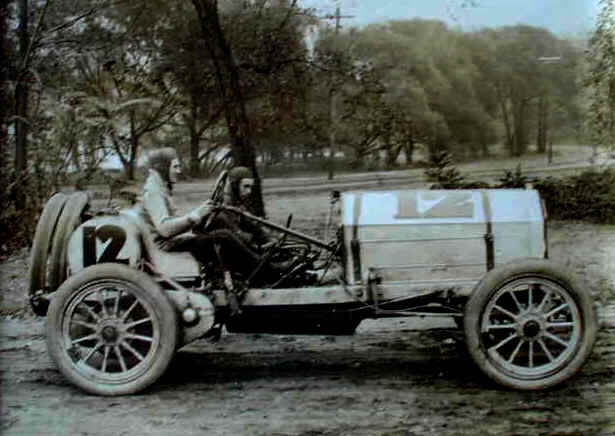 ................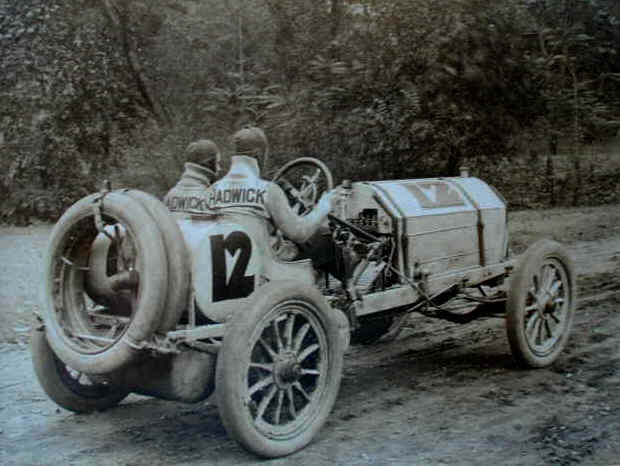 What follows is race information I've been able to collect about Len Zengle.

---

1908: He also drove in the March 1908 Savannah races, which were held prior to the November '08 Grand Prize race and billed as the 1st stock car races held in the US. He drove a Pennsylvania.

---

1908 First International Grand Prix races held in the U.S (or Grand Prize, as they were called then): The "Great Savannah Races" were held in 1908, 1910 and 1911". Len participated in the November 1908 race driving the #7 Acme. He fell out on lap six, reason not given. (The standard book on the Savannah GPs is "The Great Savannah Races" by Quattlebaum).



---

1909 Indianapolis Race: When the Indianapolis Motor Speedway opened in 1909, Len Zengle won the inaugural 10-mile race in a Chadwick with what reporters called the most hair-raising performance of the afternoon.

Lee Chadwick of Pottstown, Pa., made the first noteworthy advancements in 1908 when he constructed a supercharged Vanderbilt Cup racer which was clocked at 100 mph. The marriage of a spinning air compressor to a gasoline engine worked and the all-American high-performance automobile was born. Chadwick began with an eight-inch-diameter fan driven by a leather belt to spin at five times crankshaft speed. Louis Renault had patented this centrifugal supercharger concept in France in 1902. Chadwick's second-generation design used three fans in series spinning at six times crankshaft speed blowing through the carburetor. (More information on Superchargers and how they developed and Supercharged Buick powerplants.)

---

1911 Indianapolis 500 (The first year of the 500): Len was a backup driver for the National Team, but apparently did not race.

---

1912 Indianapolis 500 (The second year of the 500): Len started second in a Stutz/Wisconsin (car number 2) with a qualifying speed of 78.850. He finished the race in 6th place on the lead lap (200 laps) and he won $2000 in prize money (1st paid $20,000).

The race was won by Joe Dawson with a 78.719 mph average driving a National.

---

Algonquin, Ill: Hill Climbs were held by the Chicago Motor Club in Algonquin, Ill (pop. less than 1,000 - early 1900's) at a couple different locations. Perry Hill at the north end of town was used until 1909. This race was up the hill from a standing start. Crowds of over 5,000 people from the Chicago area would be present at these races.

Philip's Hill which was North Main St. was also used. This was a course of a little over a mile and with a flying start.

1909 Perry Hill Winner was Len Zengle. driving a Chadwick "Six" in 22.4 sec.

1909 Algonquin Cup Winner was Len Zengle driving a Chadwick "Six" with an unknown time.

1911 Philip's Hill Winner was Len Zengle with a time of 28.0 sec.

---




Fairmont Park 1910:

Oct. 8th 1910; 3rd annual Founders day race, Fairmont Park, Philly, PA. Len recorded a First Place.

---

1910: Quaker City Motor Club third annual 200 mile road race Oct.8 1910 . David Hatchett has a photo of the scoreboard showing Chadwick #12 winning this event




---


Elgin 1911: Len Zengle driving a National won the Elgin National Trophy Elgin, IL on August 25th, 1911. He was driving car #2 and the race was 36 laps and the average speed was 66.4 mph.




---